By Josie Quinn
"In much the same way that cisgender men playing transgender women reinforces the erroneous and harmful idea that they are "women in dresses", having attractive/sexual disabled characters played only by non-disabled actors suggests that sexy disabled people do not exist, that they have simply taken an already attractive actor and given them a CGI prosthetic."
Considering many of us have spent the last three-quarters of a year mostly stuck at home, I suspect I am not the only one who has spent a large amount of that time binge-watching films and TV box-sets on the myriad streaming services which have popped up over the past few years. Something I began to notice quite quickly was that something was missing from the glamourous, sexy cast members, and from the steamy love scenes, which seems to have become more prevalent in recent years. There were no people with disabilities. There were disabled characters on occasion, but in general they were never involved in any romantic or sexual plotlines.
I am a wheelchair user myself, and as well as having friends with disabilities, I've also ended up talking to a large number of people with disabilities, either through treatment groups, support groups or online message boards. In my experience, disabled people are just as likely to be interested in sex and relationships as anyone else! We are also just as likely to want to feel, and be seen as, sexy or beautiful. I love dressing up to go out, spending time on my make-up and taking advantage of being a wheelchair user by wearing sexy, super high, high-heels; it helps me feel confident. That confidence does get knocked about a bit, however, thanks to some of the harmful stereotypes: whether by the idiot at the bar who, on meeting me for the first time, asked me if things "work down there", or by the well-meaning older lady at the restaurant on holiday, who said it was wonderful to see what an effort I'd made "considering…"; she trailed off at that point and simply waved her arms up and down, gesturing to me in general, so I'm still unsure whether she meant my disability or the chair itself.
For anyone who doesn't personally know somebody with disabilities, their only real point of reference is the limited number of disabled characters shown on screen. This is one of the reasons accurate representation of disability in the media is so important, because the way disabled people are portrayed can reinforce many of the negative stereotypes about disability. In a 2014 poll by The Observer, 44% of Britons said they would not consider having sex with someone who had a physical disability.
Despite 22% of the UK population having some form of disability, the Creative Diversity Network report found that disabled people make up only 7.8% of on-screen contributors to British TV, and GLAAD found that across all US primetime shows, only 2.1% of series regulars (i.e. cast members with recurring roles) had some form of disability. The disparity between these figures makes it all the more important to portray disabled people accurately, and to not fall into stereotypes.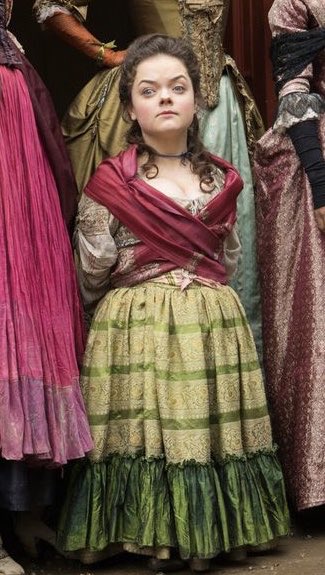 Unfortunately, more often than not, characters with disabilities fall into one of a variety of outdated, sexless tropes. To clarify, when I say 'sexless' I am talking only about characters whose sexuality/romantic inclinations are disregarded entirely; I would have no issue whatsoever if there was a disabled character who also identified as asexual and/or aromantic. These characters are usually either: childlike, perpetual innocents (often taken on a platonic "date" or similar by a Prom King/Queen type, either out of pity or genuine friendship, but invariably to show what a saintly person the non-disabled character is); an object of pity, like Bella in Notting Hill; or twisted and bitter due to their disabilities, as with the character of Poison in Netflix's Bright, or Will in Me Before You. Those last two examples even make specific reference to the impact the disability has had on the character's sex life/romantic relationships: Poison states that his paraplegia means he is unable to have sex with his wife; and in Me Before You, Will decides that suicide is preferable to being disabled, and that his death will allow the person he loves to live a full life on her own instead of "half a life" with him.
There have been a few films recently which have featured a disabled character who is either clearly meant to be sexy or is shown to have a romantic/sexual relationship, such as Sofia Boutella in Kingsman, Dwayne Johnson in Skyscraper, and Sebastian Stan in the Avengers series. Whilst this is definitely a step forward, none of these actors are actually disabled. And in much the same way that cisgender men playing transgender women reinforces the erroneous and harmful idea that they are "women in dresses", having attractive/sexual disabled characters played only by non-disabled actors suggests that sexy disabled people do not exist, that they have simply taken an already attractive actor and given them a CGI prosthetic.
Get incredible LGBTQ+ Women Like Us in your inbox …
---
Personally, I can only recall a handful of examples of disabled characters, who are played by actors with disabilities, being shown as sexually active, and perhaps less who are portrayed as objects of desire. The best example of both of these that I can think of is the character of Cherry Dorrington (played by Francesca Mills) in the BBC/Starz series Harlots. Cherry is curvaceous, glamourous, confident and unashamedly sexy; she wears the same stunning corsets, gowns and make-up as the rest of the cast. She also happens to have dwarfism.
Thankfully, more and more artists with disabilities are now emerging to show the world that disability can be beautiful, glamourous, sexy and that disabled people can (and do!) have sex. Models like Jillian Mercado, who uses an electric wheelchair due to muscular dystrophy, and has modelled across the world, posing for magazines like Glamour and Cosmopolitan; drag queens like Yvie Oddly, my fellow member of the EDS club, who uses the joint hypermobility symptom of her condition to contort her body into weird and wonderful positions, and won her season of RuPaul's Drag Race; stand-up comedians like Rosie Jones, an out and proud lesbian with cerebral palsy, who shies away from neither her sexuality nor her disability in her material; cosplayers like Mandy Pursley, better known online as Be The Spark Cosplay, who reimagines classic characters by incorporating her disability, like Cinderella with a glass prosthetic arm instead of a slipper.
So, although it is clear we still have some way to go, disabled representation has definitely come a long way in the past decade, and I look forward to watching it continue.
Josie Quinn (she/her) is in her early thirties. She is a proud bisexual, disabled wheelchair-user and self-professed total geek! She worked as a Legal Executive before becoming too 'Chronically Fabulous' to continue, having been diagnosed with Ehlers-Danlos Syndrome, Osteoporosis, CFS, Anxiety, Depression, and PTSD. In her spare time she's an avid reader (sci-fi, fantasy & graphic novels especially), amateur cosplayer and burgeoning tattoo addict. Twitter.com/Bendy_NotBroken … Instagram.com/BendyNotBroken
Read all of Josie's Chronically Fabulous posts
Read more blogs by incredible LGBTQ+ Women Like Us
Like, Comment and Share the Love.
Follow Women Like Us
---
By Josie Quinn: "In a year of isolation and fear, Dungeons & Dragons has not only kept me connected with the outside world, but given all of us the much needed chance to escape our current reality, even if only for a few hours."
Janine Norris: A letter of hope and understanding from the future to her struggling teenage self.
Louise Clare Dalton. "Let's talk about shame baby, let's talk about it and me, let's talk about all the good things and the … oh wait. Hon, let's not kid ourselves, there isn't much 'good' to speak of when it comes to the shame surrounding sexuality and queerness.